Metal "Blocks" containing multiple capacitors, generally bypass capacitors, are common to 1930s' Philcos. Restoring these is fairly straightforward with several similiarities to restoring Bakelite capacitors.
A Filter "Condenser" Block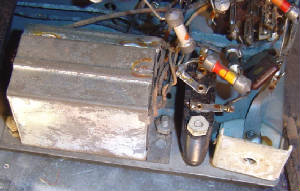 a.k.a. a box full, in this case, of 5 capacitors

Step 1. Secure a schematic and wiring diagram.


Step 2. Remove the component.

Step 3. Remove the old capacitors.


(A solid block of a hard tar-like & foil mass.)

Step 5. Assemble the new capacitor kit.


(soldier in new leads and insulate with tape)

Step 7. The component is reassembled


(front view)

Inside View - Note the Capacitor "Sections"


The Same Hard Tar Substance in the Bakelite Caps.

Step 4. Procure new caps. and wire the new leads


(note 2 caps. in parallel - hover the pic. for ?)

Step 6. The kit is installed into the old shell,


the cavity is filled with hot glue.

The Finished Component


(note the new grounding lug at the left bolt hole)
Of note, these capacitor blocks generally have a single, common, ground.
The glue fill is probably not necessary. I prefer it to keep the new caps from "knocking-around" during final assembly.
This component restoration required approximately two hours and four dollars to conduct.